Centrifuge Tubes
Our centrifuge tubes are made using the highest quality molds and materials to ensure extreme accuracy and are perfect for almost all applications. We offer our conical bottom tubes in two different sizes to meet your needs, 15ml and 50ml. Our 50ml centrifuge tube options include conical bottom, sterile conical bottom in foam racks, as well as conical bottom self-standing. We also offer 50ml flat round-bottom centrifuge tubes. Our 50ml flat round-bottom tubes meet all requirements for metallurgical testing standards. We are always happy to send you a free customized sample kit of any of our products to ensure that they will meet your standards.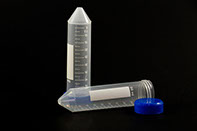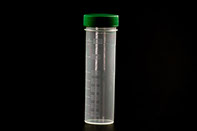 Test Tubes
TESC offers an extensive line of multi-use test tubes. The tubes are molded from premium grade polystyrene for clarity or polypropylene for impact strength and stability against common acids, alkalies, and solvents. Polystyrene tubes can withstand up to 1500 RPM during centrifugation. Polypropylene tubes can withstand up to 3000 RPM and are autoclavable and freezable.

Microscope Products
TESC brand microscope slides are made of flat, ripple-free and corrosion-resistant glass with smoothly ground edges. They are pre-cleaned and ready to use right out of the box. All of our plain and frosted pre-cleaned microscope slides are newly manufactured and packaged into boxes with 72 slides (1/2 gross) per box. Each box is individually vacuum sealed in plastic to prevent dust contamination. Our slides are sold by the case, each case containing 20 boxes (10 gross) each.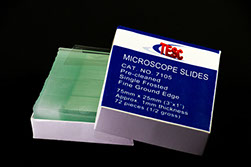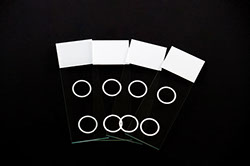 Zip-Bags
TESC Plastic zip-bags are a standard 2ml thickness and come in a variety of sizes to suit all of your sampling needs.  We offer our zip-bags in plain or white-on for easy labeling.
Medical Supplies
TESC, Inc. is a leading factory direct seller of surgical sutures, surgical blades, and blood lancets, as well as multiple varieties of microscope slides, cover slips, and plastic labware. A list of the different types of microscope slides as well as their functions can be found below:
Positive Charged Slides
These color-frosted positively charged glass slides are made by a new process which places a permanent positive charge on each slide. This process offers the following features:
– Frozen tissue sections and cytology preparations are electrostatically attracted, binding them to the slide.
– A bridge is formed so that covalent bonds can develop between formalin fixed sections, and the glass.
– Tissue sections and cytological preparations adhere better to these slides without the need for special adhesives or protein coatings.
Polysine Slides
Our premium glass frosted slides are now available pre-coated with Polysine. These slides improve the adhesion of tissues to the slides.
Silane Slides
These slides are prepared with Silane to enhance the adhesion of tissue sections and are perfect for histological use.
Cytology Adhesive Slides
These slides are ideal for cytogenetic applications. They come with color frosted ends and a hydrophilic surface.
Hydrophilic Slides
These slides are ideal for blood cell applications and come with white or color frosted ends and a hydrophilic surface.
Download our Full Catalog here.
All items in this catalog can be produced, given that a sufficient quantity will be ordered. If the item you are looking for is currently not in stock, we can put it in stock for you and from then on, we will have it on-hand for your future orders.
For quotes or other information on any of our products please contact us.
Currently Hospital supplies are not available in our online shop.